Eastgate Towing & Storage Inc.
For over 40 years, Eastgate Towing & Storage Inc. has been assisting the drivers of Sioux Falls, SD with all their towing and roadside assistance needs. If you're stuck on the road, we'll make sure you and your car are safe, secure and out of harm's way.
24/7 Towing Service in Sioux Falls, SD
Accidents, dead batteries and stalled engines happen to every driver at one point or another. When it happens to you and you're stuck out on the roads and in need of towing in Sioux Falls, SD, you want a towing service you can count on for quick and efficient help. Eastgate Towing & Storage Inc. is proud to have been that towing service for hundreds of customers every year since 1973. When you're stranded, our team of nationally certified towing professionals will tow your car, motorcycle or motor home to a place of your choice. If you don't have a space for it, we can also store the vehicle for you until you and your insurance decide what to do with it. No matter the time or day, our 24-hour towing service ensures that we'll always have you covered.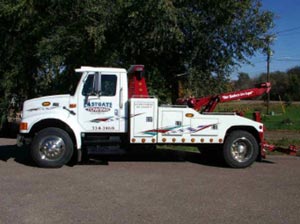 Since we also do frequent police towing and impounding, we accumulate many vehicles that we eventually need to clear out. So if you're looking for a new car at a great price, you'll want to be sure to check out our annual auction website. At Eastgate Towing & Storage Inc., our top goal is always to treat you and your car with respect. You should trust us with towing service in Sioux Falls, SD because:
We offer 24-hour and emergency towing services.
Our nationally certified towing professionals are respectful and careful with your vehicle.
We can store your car for as long as you need.
We have over 40 years of experience serving the Sioux Falls, SD area.
Our prices are always fair and reasonable.
Our Services Include:
Towing
24 Hour Emergency Towing
Vehicle Recovery
Under Water Vehicle Recovery
Vehicle Auctions
And More!